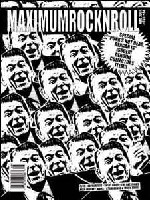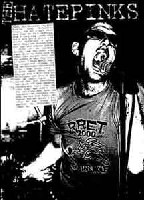 NTERVIEW MAXIMUMROCKNROLL/AUGUST 2004/#255
" Jesus, the HATEPINKS are hot! They're from Marseille, France, and all I know about this town is they're suffering from a very high crime rate and a they've got a pretty good soccer squad - but I guess those things are combined somehow. Last year someone sent me a Split 7" on LOLLIPOP Records, and the first song named "Bored on Pills" blew me away, just seconds after put the needle on this fine piece of vinyl I found myself jumping around and singing! [It was the HATEPINKS / DISTRACTION split, just for your information] Some weeks later I received their debut album "Sehr gut Rock n Roll" , also out on Lollipop, and these 13 cuts made me smile again. this record has got everything, fast paced '77 punk smashers, pop drenched tunes like the title song, and perfect cover versions. let's see what these old Frenchies - who obviously worship NEW BOMB TURKS, THE PAGANS and THE BRIEFS a lot - have to say. Stand back America, the HATEPINKS are comin' in."
MRR : The first very unusual question is who plays what in the HATEPINKS?
Ok :Huggie Von Rosenberg plays the guitar, Colonel Nasser Le Pink plays the bass, Olivier Gasoil sings and Rémi der Pinkbeat does the drums. We are Le Hatepink baby; we hate the world yeah baby.
MRR : As old as you guys look like, I suppose you've all played in some bands before, are there any worth mentioning?
Yes. Colonel Nass played the bass in The Plastic Congelators, a very short living band. It was years ago, they only had a 7' out. Rémi and Huggie were playing together in some power pop band named Dollybird, a mini album was out on Elp records, and I was playing in The Gasolheads. The band is one year old. And we are not as old as we look like, asshole.
MRR : Olivier, why did you stop with the GASOLHEADS?
It was planned from the start not to do a long living band. After the first album we decided to only do 2 others and then to stop. We made several LPs, 7', 10' and two or three European tours, it was enough. We never had the desire to go into some shitty evolution.
MRR : What does the term "Hatepinks" mean? I can translate it, but when I take a look at your website and record covers, I come to the conclusion that you actually love the colour pink…
We though it was obvious that it's just a stupid gimmick. But if you want an interpretation: The Hatepinks is just a name we dropped on a list of stupid names. We should have kept it in French: "Les Haines Roses", but it's too late now… We don't really hate pink. We just hate people with a pink tinted vision of life, people with a positive attitude about the shit they get for a living. Like: I got a car, I got a wife/husband, I got a house, I got food, so let's be happy! Fuck them. On stage we dress in pink and our equipment is painted in pink but that's just because people and ourselves love this kind of silly things.
MRR : What was the runner-up name?
Another stupid name: The Jacket Chromes.
MRR : I guess most of the readers didn't hear a single note of THE HATEPINKS until now, so please explain the style of punkrock you're playing, and name three bands people might think you sound a bit like…
Maximum minimalist garage-punk. Three bands? Ok: Plastic Congelators, Les Olivensteins and The Black Leather Fuckers. Ok with that?
MRR : How long do you want to go on with the HATEPINKS? Any plans, any goals you are heading for? Do you wanna go on tour in the US? Tell us…
We think we'll do only two or three LPs, so maybe two more years and it will be over. No, we have no plan, just have fun, putting out decent records on cool labels, and playing in places we have never been before. Oui mon ami! Going over there in America and doing a tour is something we got in mind. The TV Killers, the Splash Four and the No Talents did it. We would love to.
MRR : Which bands have played a predominant role as musical and/or visual influence for you?
All those silly bands with a funny look: The Weirdos, Crime, Starshooter, The Dickies, The Ramones, The Damned, Johnny Rotten, Métal Urbain, you know all those bands which combines the visual impact with the catchy tunes. Yeah we have no pride, yeah we have no style of our own, yeah we got nothing and all we got is shit. We are not the symptoms, we are not the reasons. We are gimmicks. We are gimmicks.
MRR : Who are the most important bands in France right now? I know there are some people who form a lot of bands [la "famille heureuse parisienne" de garage-punk] but what's cooking in the rest of France?
I don't know if they are important, but here are few names: Neurotic Swingers, Cowboys from Outerspace, both out of Marseille, our hometown, I think they are the best… along with the Jerry Spider Gang from Toulouse, Hawai Samourai, Weak, The Fatals, The Zoomen, Sparkling Bombs, Petit Vodo, Anteenagers MC, Little Green Fairy, The Jakes from Bordeaux are great too, The Magnetix, Volt, Elektrocution… Maybe you will hear from one of these band someday. They all got records out and are active in one way or another.
MRR : Does your live appearance differ a lot from your studio recordings?
No, I think not. Just the usual little differences. No voice dubbing, no rhythmic guitar during our short guitar solos. Merde! Who gives a fuck about that technical shit? Your question is dull. Go to the next one, you little piece of shit.
MRR : Olivier, why don't you play an instrument on stage, is it because you don't know how to play, or is it just necessary for the live show?
I can't play a single chord. I don't know how to play. I'm not a musician, and I hope I never become one of those fuckers. Those stupid little suckers who thinks a break, a solo or a musical progression is important.
MRR : I guess you cannot make a living from the band, so what are you doing to get the rent paid?
Huggie Von Rosenberg works as a sound engineer in a big studio for contemporary music, Rémi Pinkbeat is jobless, he buys and speculates with musical equipment he finds on the internet. Colonel Nasser is a student, doctor in Arab History. He gets money from the ministry of education. I work as a librarian in a public library.
MRR : Why did you choose "Sehr gut Rock und Roll" as title for the record, I mean, it's German!
Because it's funny. Don't you think it's funny? Didn't you laugh when you saw it? The next album will be called "Kartofel Swing". Out on Lollipop Records.
MRR : Do people make fun of you, because of your strong accent when speaking English? Or is it helpful when you speak to German girls?
We don't have a strong accent when we speak English! Our accent is very good! Haha, oui très bon! Yes, foreign girls love our charmant little French accent, but that's only a stratagem to get them to eat camembert and drink red wine! You wanna have some French tricks? « Je me drogue pour rendre mes amis intéressants ». It means « I do drugs to make my friends interesting ». "Mes couilles sur ton front" means "I'm happy to meet you"… Hahaha what a nice exotic language, isn't it?
MRR : Have you ever danced naked?
I have never danced in my whole life. Huggie danced naked with sunglasses, red warp and striped tie after the last show we did in Besançon, that's a small town in the middle of France. This story is true. And then he climbed on the bar so the promoter could spank him.
MRR : Have you ever had an imaginary friend?
All my friends are imaginary, I guess.
MRR : Have you ever whished you were the opposite sex?
Yes, a lot of times. Hmm I could touch a pussy everytime I want.
MRR : Have you ever puked onto someone?
Do you call myself someone? If you do, then yes I already puked onto someone. And Nasser puked on the guy from the band we played with in Wiesbaden, in Germany. He smoked too much strong grass and drank too much Jägermeister. He fell from rank of colonel to corporal that night.
MRR : Have you ever had more interesting interviews than this?
No never. It is a whole revolution for us to do this interview, it changed our life. Hey I just want to add we got a record coming out next month on Unity Squad records, a 7 tracks 12' on clear vinyl, but don't buy it as it's an American label! No money for American industries! Stripe it or steal it and put it in the trash! You dirty American Folk! You pigs! Are you really all fat and ignorant?
MRR : Have you ever been mean to each other in the band?
No we are always kind and nice to each other, except with Rémi. He is just a drummer, you know…
So that's all! Fuck you my friend! Stay Punkrock you piece of shit!